**Holiday Deal** FLEX (Weekend or Weekday) Tandem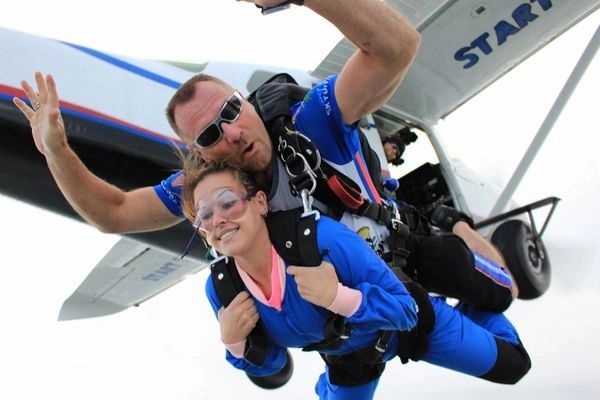 **Holiday Deal** FLEX (Weekend or Weekday) Tandem
HOLIDAY FLEX (Weekend, Weekday, Mid-Day, or Evening) TANDEM SKYDIVE DEAL: ONLY $219.99!!!
Flex (Weekend or Weekday) Start Skydiving Tandem
Prices increase randomly between Black Friday and Christmas Eve; purchase NOW for the best deal!
Not sure which day of the week or time of day your gift recipient wants to skydive? Give them the gift of flexibility to choose themselves with this incredible holiday deal.
Do you want to share an unforgettable adventure with your family or friends? We are committed to making sure that your family and friends will have the exhilarating experience of their lives!
Good any day that we operate through June 30, 2024, after which the money paid remains on the card for five years from the date of purchase to use toward retail prices.
Most people choose the tandem method to make their first jump. Training takes less than 30 minutes, and depending on a number of variables, a student may spend only half a day for the training and the jump.
Both the student and the instructor are attached to the same parachute system. They freefall together for 30 to 50 seconds, depending on jump altitude, typically 10,000 to 13,000 feet. They descend together under a single large parachute with dual controls.
This gift card is delivered to your home or business U.S. mailing address via USPS or can be picked up in person at Start Skydiving if selected at check-out.
VIDEO/PHOTOS: Want to share in the memories and keep them for a lifetime? We'd be honored to capture the experience via video/photos. Learn about our packages here and purchase video/photo gift cards here.
Happy Holidays!
MAX WEIGHT: 235 lbs (220-235 lbs subject to additional equipment fee)
Start Skydiving Terms and Conditions
Holiday Gift Card Terms and Conditions:
Holiday rate expires on 30 June 2024, after which the funds remain on the card for five years from the date of purchase to be used toward retail rates.
Gift Cards are to be treated like cash. They are not subject to replacement if lost or misplaced. They MUST be physically presented at the time of check-in.
Gift cards are completely non-refundable. However, you may sell or give them to someone else if you are not able to use them yourself.
The amount paid and placed on a gift card expires after five years from the date of purchase.
If Start Skydiving reschedules the skydive for weather, the holiday rate will extend for 30 days after the date of rescheduling or until 30 June 2024, whichever is later. After holiday rate expiration, the dollar value on the gift card remains on the card for five years from its original date of purchase and can be used toward the current retail rates.
WARNING: this is likely to instantly change your life for the better. BE PREPARED!
WARNING: this sport is addictive; we can't stop throwing ourselves from airplanes. You may find yourself wanting to get your skydiving license and starting a new hobby [or even career].