Tandem Jump Gift Card - Weekday Mid-Day (M, Th before 4p) Rate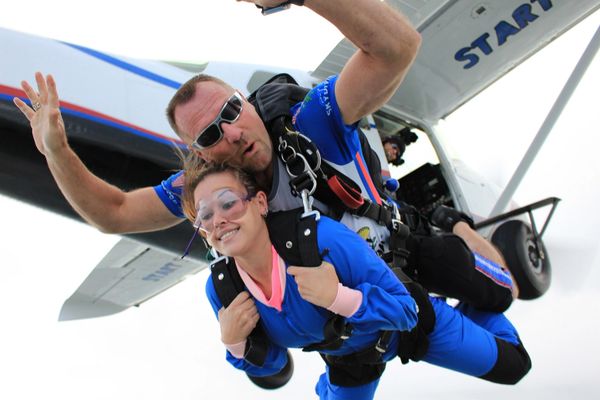 Tandem Jump Gift Card - Weekday Mid-Day (M, Th before 4p) Rate
This is a gift card to cover the purchase of a 2023 tandem skydive mid-day on a weekday (Mon/Thurs) before 4pm. Start Skydiving is closed on Tues/Wed. Fri/Sat/Sun are subject weekend rates ($20 more).

Most people choose the tandem method to make their first jump. Training typically takes less than 30 minutes and depending on a number of variables, a student may spend only half a day for the training and the jump.
Both the student and the instructor are attached to the same parachute system. They freefall together for 30 to 50 seconds, depending on jump altitude, typically 10,000 to 13,000 feet. They descend together under a single large parachute with dual controls.
Delivered to your home or business U.S. mailing address. Our Gift Cards are sent via USPS.
Gift cards are good for five years from the date of purchase, should be treated like cash, and are not refundable.

MAX WEIGHT LIMIT: 235 LBS