**Holiday Deal** 2022 Licensed Skydiver Unlimited Jump Package (3 MONTHLY PAYMENTS)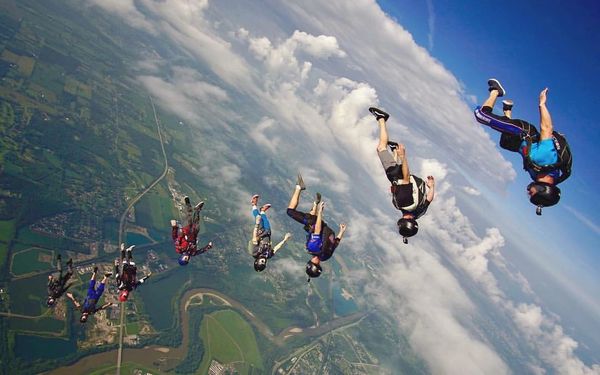 **Holiday Deal** 2022 Licensed Skydiver Unlimited Jump Package (3 MONTHLY PAYMENTS)
Holiday Deal - Start Skydiving Unlimited Jump Package: THREE MONTH PAYMENT PLAN!
Pay $1833.33/month over three months (

This deal is subject to end on any day between Black Friday and 31 December)
How many jumps can YOU do Between April - October?

Ready for a Jump and Jump and Jump? Snag an unlimited jump package for 2022 as a gift to yourself! 

How many jumps can you do between April - October 2022? What if your jumps got cheaper the more you jumped? Never paying manifest, the more you jump the less your overall jump price will be.

Only FOUR Unlimited Jump Packages will be sold

Unlimited Jump Package

 good any weekend or weekday from

April 2022 through October 2022

.
Happy Holidays

May not be purchased with funds already on the jumper's account

This is Non-refundable and Non-transferable 

May only be used in 2022

May not be used for specialty aircraft and special events.

You must be a current member of the USPA holding an 'A' license or higher.

You must have a reserve packing card for each rig you wish to jump in-date per FAA 180-Day requirements.

Any missed loads on which jumper is manifested will result in a charge to jumper's account of a full-price ($27) jump ticket.

Jumper must agree to and sign the updated Start Skydiving annual unlimited jump package agreement (found on the licensed skydiver page).
Purchase of this $1833.34 item indicates customer's intent to make two additional $1833.33 payments, adding up to the full $5500 for an unlimited jump package for 2022 at Start Skydiving, completing the full purchase no later than three months from the date of initial purchase. If customer fails to complete the full $5500 payment on time, the payments made to date will remain on customer's account for purchase of block jumps or other jump tickets at Start Skydiving.